Cherry Cream cheese pie. Light cherry pie filling and fat-free condensed milk are used to create this very creamy cheesecake crowned with cherries. She used to call it "Cherry O'Cream Cheese Pie". This was very easy to make and very good and while it's not a "cheesecake" it's not bad for so few ingredients and being "no.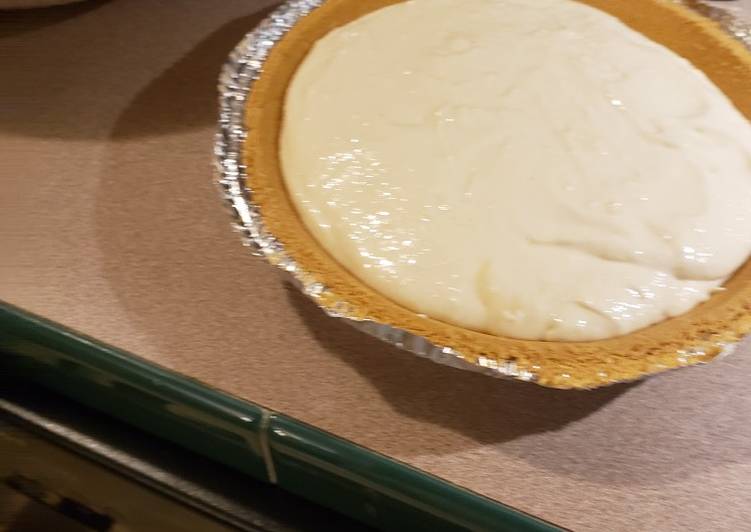 This Cherry Cream Cheese Pie is made exactly how Grandmama made it. It is as tasty as it is pretty y'all. I blame my Grandmama's Cherry Cream Cheese pie almost entirely for my childhood weight issues – and man was it ever worth it! You can have Cherry Cream cheese pie using 6 ingredients and 6 steps. Here is how you achieve it.
Ingredients of Cherry Cream cheese pie
Prepare 1 oz. of Graham Cracker Pie Crust.
You need 8 oz. of Cream cheese softened.
You need 1 (14 oz.) of Can Sweetened Condensed Milk.
Prepare 1/3 cup of Lemon juice Fresh or Bottled (not extract).
You need 1 Tsp of Vanilla.
Prepare 1 (30 oz.) of Pie Filling.
BEAT cream cheese until fluffy in large bowl. Gradually beat in sweetened condensed milk until smooth. Stir in lemon juice and vanilla. This cherry cheesecake pie is a scrumptious cheesecake made extra-easy with convenient filling ingredients.
Cherry Cream cheese pie step by step
In medium bowl, beat softened cream cheese till light and fluffy.
Slowly add Milk, beating until smooth..
Stir in lemon juice and vanilla until well mixed..
Pour into crust..
Chill 3 hours until firm. And then top with Cherry pie Filling..
Blueberry and Apple Pie Filling were both Good..
Place in the fridge to chill thoroughly before serving. Garnish with whipped cream, if using. This is Marie's fast and easy Cherry Cream Cheese Pie. Make this triple-cherry cream cheese pie (that's fruit in the form of pie filling, preserves, and dried) to steal the show at any summer potluck or barbecue. The amaretto whipped cream makes each slice taste just like cherry cheesecake pie!