Beef Stew – Gluten and Dairy free.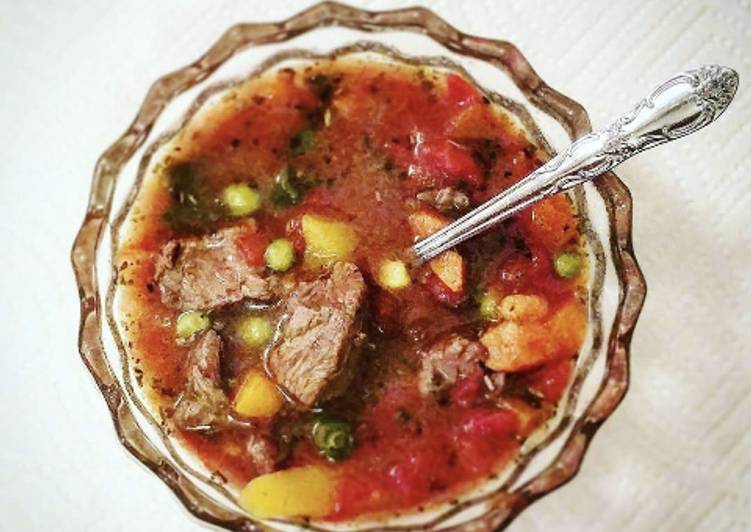 You can cook Beef Stew – Gluten and Dairy free using 16 ingredients and 7 steps. Here is how you cook it.
Ingredients of Beef Stew – Gluten and Dairy free
You need 1 of beef roast (or) 2 – 2.5 lbs stew meat.
It's 2 quarts of Beef Stock (I use 365 Organic Beef Broth, gluten free).
Prepare 1 of medium white onion, chopped.
It's 4 of medium russet potatoes, peeled and diced.
Prepare 3 of ribs celery, diced.
You need 1 of large can of crushed tomatoes.
You need 1 bag of frozen mixed veggie (carrots, peas, green beans, etc).
You need 1 Tbsp of Cornstarch.
Prepare 2 Tbsp of Italian seasoning.
Prepare 2 tsp of Onion powder.
You need 2 tsp of Garlic Powder.
It's 1/2 tsp of red pepper flakes.
It's 1 splash of Worcestershire sauce.
You need 1 splash of Gluten free soy sauce or Liquid Aminos.
Prepare to taste of Salt and Pepper.
You need 2-3 tbsp of cooking oil, I used Grapeseed oil.
Beef Stew – Gluten and Dairy free step by step
Cut beef into bite size pieces. Heat pan to medium – medium/high heat and add oil. sprinkle cornstarch over beef pieces then place into heated skillet. Brown on all sides..
While meat is browning, peel and dice potatoes, onion, & celery. Add veggies to a crock pot..
Add stock, crushed tomatoes, & frozen veggies to crockpot..
Add browned meat to crock pot with the veggies..
Add a 1/2 cup of broth to the pan the roast was browned in. Use a spatula to scrape up the leftover beef bits from the pan. Pour into crock pot..
Add seasonings. Mix and cover. Set crock pot to High for 4 hours or Low for 8 hours..
Enjoy!.