Hawaiian Haystack. Hawaiian Haystacks were always a favorite dinner when we were growing up! We love how you can build your own dish just the way you like it! Hawaiian Haystacks are about as Hawaiian as.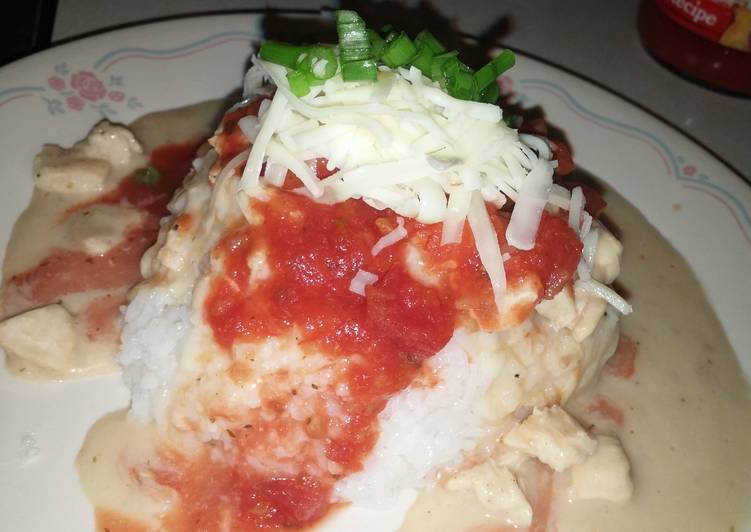 The toppings with the chicken and rice, all come together and form a delicious meal. Hawaiian haystacks are a great way to layer leftover rice, chicken, pineapple, and Cheddar cheese for a tropical weeknight dinner. Hawaiian Haystacks are great to serve at large gatherings, such as family reunions, banquets, Girl's Camp, parties and other events. You can have Hawaiian Haystack using 11 ingredients and 6 steps. Here is how you cook it.
Ingredients of Hawaiian Haystack
Prepare 2 cup of rice.
Prepare 1/2 lb of chicken breast.
You need 1 can of salsa.
You need 1/2 packages of cheese your choice.
You need 1 pinch of green onion.
It's 1 can of cream of chicken.
It's pinch of whatever you want! e.g. chow mein noodles, olives, onions, tomatoes, etc..
Prepare tbsp of olive oil.
It's tbsp of ground black pepper.
Prepare tsp of paprika.
It's pinch of garlic powder.
These Hawaiian haystacks are a family favorite dinner that's easy, inexpensive and completely customizable. Made in the crockpot and perfect for busy weeknights. Hawaiian Haystacks are rice stacked with chicken, pineapple, all your favorite toppings, and simple homemade gravy sauce. Sharing my favorite Hawaiian Haystacks recipe today!
Hawaiian Haystack instructions
Cook rice, keep separate..
Put olive oil in pan, dice chicken, cook until browned.
Add cream of chicken to the pan of chicken and spices to your taste..
Simmer all together and gather ingredients. Put rice as base and top with salsa, cheese, green onion, and anything you can think of that you like. This sounds gross, but everything works out and tastes great!.
Note: if you let the sauce sit, it will thicken. Mine in the picture looks watery because I instantly put it on my plate. I was hungry!.
.
You can pretty much use whatever veggies you like with chicken. Hawaiian Haystacks are the perfect mix of comfort food and health food making them a guaranteed crowd pleaser. Made with a creamy chicken gravy from scratch, over a bed of whole grain brown rice. Hawaiian Haystacks are definitely a family favorite at our house. Easy to make, yummy to eat, and everyone can personalize it to their own tastes!