Butternut Squash and Sweet Potato Soup.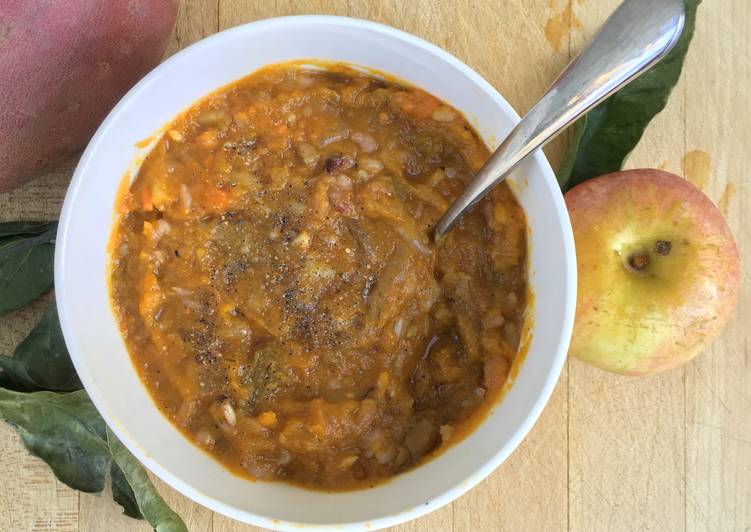 You can cook Butternut Squash and Sweet Potato Soup using 11 ingredients and 9 steps. Here is how you cook it.
Ingredients of Butternut Squash and Sweet Potato Soup
Prepare 1 of butternut squash medium.
You need 1 of spanish onion.
Prepare 3 – 4 cloves of garlic , chopped.
It's of sage.
It's of thyme.
Prepare 1 of yam garnet.
It's 1 of apple.
Prepare 2 of celery , chopped sticks.
It's 2 – 3 cups of vegetable broth (as needed).
It's of salt.
You need of pepper.
Butternut Squash and Sweet Potato Soup instructions
Wash whole butternut squash, cut of stem, and place in crock pot at and cook at low heat for 7-8 hours. (alternatively if you do not own a crock pot, place in dutch oven at 200 degrees for similar length of time).
After 7 hours or when squash is soft, remove from pot, cut squash in half and let cool. Be sure to save any remaining liquid in pot for later use.
Meanwhile, finely chop onion and celery and apple and saute in olive oil until very soft. Then add chopped garlic.
Cut yam into small cubes and place in separate pan with olive oil, cook for several minutes on medium heat, stirring frequently, then add 1/4 cup or less of water and cover. Reduce heat to low and continue to check and stir frequently until yams are soft..
Once the squash is cool, scoop out seeds and remove skin, then place in large soup pot under low heat.
Add leftover liquid, vegetable broth, and combine all other cooked ingredients into pot as well..
Use a potato masher to mash everything until the soup reaches a relatively uniform consistency, adding additional broth if necessary. (still cooking on low heat).
Add sage, thyme, salt and pepper to taste..
Note: Using curry powder and related spices instead of thyme and sage also creates a delicious outcome!.