Steve's Ground Turkey and Cheese Lasagna.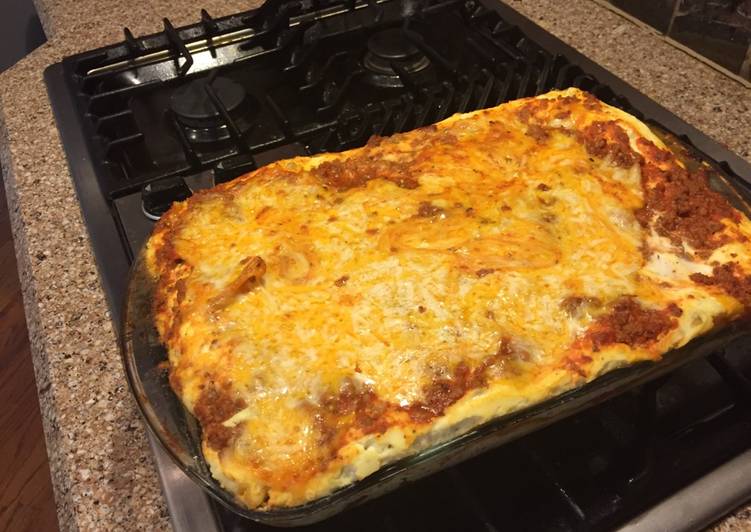 You can have Steve's Ground Turkey and Cheese Lasagna using 9 ingredients and 13 steps. Here is how you achieve it.
Ingredients of Steve's Ground Turkey and Cheese Lasagna
It's 3 lb of ground turkey (85% lean).
It's 8 cups of shredded cheese (mixed).
It's 1 qt of ricotta cheese.
You need 48 oz of Italian sauce.
You need 3 of eggs.
It's 6 of lasagna noodles.
Prepare of Season salt (to taste).
Prepare of Parsley flakes (handful) optional.
Prepare of Italian seasoning (optional).
Steve's Ground Turkey and Cheese Lasagna instructions
Cook ground turkey and season with season salt and Italian season. Crumble into smaller pieces of ground turkey..
After successfully browned, drain and mix with spaghetti sauce. Then set aside..
Mix eggs and ricotta well in a bowl until the mixture is smooth and consistent all the way through. Add about 3 teaspoons of Italian seasoning. Set aside..
Boil water in a large pot. Add approximately 3-4 tablespoons of olive or vegetable oil to prevent sticking. Add about 3 tablespoons of season salt to bring water to boil faster and season water..
Bring water to a rolling boil and add lasagna noodles. Cook uncovered on medium heat until noodles are soft and malleable. Turn off burner..
In a 12 inch baking dish add the meat and sauce mixture to the bottom layer..
Add enough cheese to cover the meat and sauce mixture..
Then add 3 lasagna strips on top of the cheese..
Spread ricotta mixture over the lasagna noodles. This is the first layer..
For the second layer, add more meat mixture, cheese, noodles, and ricotta..
Top off the dish with the remaining meat and cheese. Add parsley flakes as a garnish..
Cover with foil and bake for 55 minutes on 350 degrees. Once it finishes cooking remove the foil and cook for an additional 15 minutes on 425 degrees to let it brown..
Remove from oven and let cool for about 30 minutes before serving..